"Families do endure misfortunes and as a result can and should draw even closer!"

Personal reflections on the lives of...

Meredith A. Disney,
Daniel H. Disney &
Charles Elias Disney...
​Edited By Patrick Tighe, Disney Biographer, from Newport Beach, California
​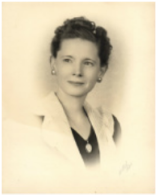 Meredith A. Disney
Meredith A. Disney was one of the most creative individuals in the film industry. She was such a multi-talented lady and she spent her life reaching out and helping others! Meredith was always an example for others who were her friends and family. She was the founder of LodeStar Pictures, an early "seed film funding" enterprise. She was married to Raymond A. Disney one of the older brothers of Walt Disney. She was an easy person to approach and always she made everyone feel as though they were the only person in her life! Meredith colaborated with the Sherman Brothers and others with music projects for numerous films. If charity has a face, it would be the image of Meredith Disney! Meredith and sons Charles Elias Disney and Daniel H. Disney lost their home in Malibu, California on Nov. 3, 1993 when a huge arson-created fire destroyed hundreds of homes. This fire was so intense that the glass in their three cars melted and the access asphalt street became so unstable that numerous rescue vehicles were destroyed. Fortunately, at that time, family pictures and other family keepsakes had been removed from their home and were in storage due to a huge remodeling project and while the oak floors throughout their home were being restored just prior to the horrific fire. Still, the great emotional loss of their home was hard to endure!

Then, unfortunately, most all of the family pictures and other items that survived the 1993 Malibu, California fire were completely lost in the Midwest tornado on May 22, 2011. Drastic efforts have continued to discover and recover lost items with little to no success! The loss of family and friends personal pictures has been quite difficult because these pictures portrayed a family history and held so many fond memories that seem now to be lost forever! Charles' family pictures of his late wife and son has been so difficult because seemingly there are no duplicates or replacements to be discovered. The family endured another Malibu fire in 2004 but their home was not destroyed, even though close neighbors homes were completely destroyed. Sometimes things occur that do help keep "what really matters" in perspective!

Every family member endures circumstances beyond his or her control! Each individual is capable of facing misfortunes and great losses and every person can choose how misfortunes and losses will impact their future. Their Catholic faith is a very strong influence with Charles and Daniel. Meredith's Roman Catholic faith and her lifelong love for God---always paramount in her life---prior to her passing away nineteen years earlier---as the result of a terrible and tragic automobile accident.

Meredith Disney was an accomplished pianist and violinist throughout her life. She often would accompany her brother for concerts. She always cared for the older members of her family and also saw to the care of several friends through to the end of their lives! She sponsored several children receiving treatment at the Shriner's Hospitals for Children and she made her musical talents available on a regular basis! She enjoyed teaching children to love and enjoy playing the piano for many years.

​Meredith was quite active in the churches she attended and she was able to reach out to so many people throughout her life! A more detailed and personal biography for Meredith Disney appears on page one of this website!
---
---
Celebrating the 60th Anniversary of Disneyland in Anaheim...
​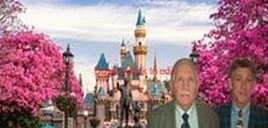 Charles Elias Disney and Daniel H. Disney standing in front of the bronze images of Walt Disney and his Mickey Mouse known as "Friends" at the early spring celebrations prior to the summer 60th Anniversary of Disneyland Park in Anaheim, California beginning on July 17, 2015. As a teenager Charles Elias Disney was in Anaheim in person when Disneyland first opened in 1955! In Anaheim, and adjoining to Disneyland Park, and across the entrance dias, is California Adventure Park that opened on February 8, 2001. Disneyland was the original Disney Park and Walt Disney really loved to spend his weekends walking throughout this park and greeting guests! This is the place where Walt realized his lifetime dream for creating a place where families could come and enjoy being together! Walt and Lilly maintained a very cozy family apartment above the fire house where he and his family would stay when they were at Disneyland!
---
---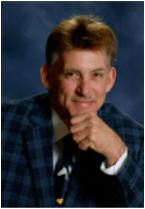 Daniel Harwood Disney has been a creative artist from the time he was a youngster and he would sketch and paint pictures of friends! He enjoys a natural instinct toward creating art in many forms. Daniel was formally adopted by Meredith Disney in 1978 and she always regarded and loved Daniel as another son! Daniel is a spiritual person and he is able to imagine images and then to apply his art techniques in such beautiful renderings and his unique use of color distinguishes his art styles from others. He has successfully created many inspiring images for both religious and secular mediums. Some information relating to his work and his personal history will be emphasized in the following reflections on this page.

Daniel was asked by His Eminence +Roger Cardinal Mahony, the Archbishop of Los Angeles, California, to pray and then to consider creating much of the print and other marketing art work for the new Cathedral of Our Lady of the Angels that was to be dedicated on September 2, 2002. Daniel agreed to assist the Cardinal and he began an extensive research effort for the historical nature of such an undertaking. Daniel was given access to historical archives of the Archdiocese. Frequently, Daniel would meet personally with Cardinal Mahony to submit his ideas for what the Cardinal had requested. For over one year the two men worked on their mutual ideas and to creating the art forms the Cardinal had hoped for and that were ultimately realized, and the many, many art print forms were created and implemented! This work was most fulfilling for both the Cardinal and Daniel. The work was comprised of original art for advertising mediums as well as labels for jellies and preserves and for wines to be offered in the Cathedral Gift Shop. Many other print forms were created from the welcome brochures and guides, marketing, and to the dedication tags for the many various groups invited to the numerous dedications when the Cathedral was to be blessed and consecrated!

A beautiful twelve-sided brochure (over one million were printed) was created to emphasize the Cathedra or Bishop's Chair that symbolizes the teaching authority of Bishop's in the Roman Catholic Church and the very first United States Catholic Cathedral Cathedra from the Bascilia of the National Shrine of the Assumption of the Blessed Virgin Mary from Baltimore, Maryland was on display in one of the Cathedral's adjoining inside galleries for over one year following the Cathedral dedication. Hundreds of thousands of Pilgrims visited and were awe inspired with this display in Los Angeles. Daniel H. Disney is an active Roman Catholic and a conservative member of the Republican Party.

Daniel is also an accomplished professional baker! In past years he created many of the bakery recipes for the numerous Disney Park Bakeries. Often, he was testing his own newly created bakery recipes with his family and friends (often at his church parish) and he contends his baking is somewhat relaxing for him as he previously has owned and operated several bakeries in the past.

Daniel has created some very stunning art for LodeStar Pictures Est. 1956 and he continues to handle the print mediums for LodeStar. Daniel built a retreat home on 80 acres deep in the beautiful forest in northern Minnesota known as Mt. Alverna Pines for his family and friends and as time allowed he enjoyed spending quality retreat time there for many, many years! He always insisted that even in the coldest of Minnesota winters, some of his greatest inspirations were realized! An avid fisherman and water enthusiast, Daniel has always enjoyed water sports in Minnesota lakes and boundary waters!

Daniel also creates original graphic and schematic designs for roller coasters! He, along with Charles Elias Disney are avid and passionate roller coaster enthusiasts and in past years both guys have been active consultants to various engineers for the actual construction of numerous roller coasters. His enterprise is known as Sky-Ride Roller Coasters.

Daniel also suffered the loss of his family home in Malibu, California in 1993 due to an arson- started fire and the loss of his home in the Midwest in 2011 when a most ferocious EF5 multiple-vortex tornado nearly cost him his life and when so many wonderful family pictures and other distinct family memorabilia were permanently lost!

Daniel experienced a near-fatal heart attack in late summer of 2014 and then the following morning endured a seven hour five-bypass open heart surgery from which he is still recovering. Thankfully, he is doing much better, almost daily! Earlier on the very day he experienced his heart attack, without noticing any symptoms, Daniel, while attending Mass, had invoked the help of God and particularly Saint Michael the Archangel as he was about to embark on a long flight the following morning. He contends both God and the Saint were most certainly with him when, later that night, he was rushed to the Emergency Room at St. Joseph's Medical Center where he received the extraordinary life saving medical care long associated with St. Joseph's! And he thought he merely had a case of indigestion because earlier in the evening he and Charles Elias and some close friends had overly indulged in enjoying some really wonderful turkey barbecue!

Today, Daniel continues with his recovery and he enjoys his Laughing Graphics and Animation Studio partnership and some bakery endeavors, because with both of these endeavors he seemingly enjoys great satisfaction and even relaxation!
---
---
Disney Home in Florida...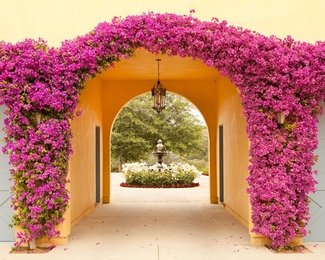 Disney Residence in Florida where Daniel H. Disney and brother Charles Elias Disney and his son Cristian Petrea Disney reside. This home resembles a Spanish Mission and serves as the family gathering place. Many family celebrations have occurred in this home and the welcome mat is always out for family and friends since 1955. The large garden entry is covered with a stunning huge (50+year-old) pink Bougainvillea Ivy leading into a beautiful courtyard where an Italian carved fountain surrounded by white Veil of Mary and White Joseph's Coat Roses is such a pleasant and peaceful greeting! The home overlooks a beautiful garden-type retreat. An outside stunning 14 Stations of the Cross garden provides an inspiring walking area and an opportunity, if you like, for daily meditation and devotions. Giving yourself time for your own personal thoughts each day is wonderful and even quite healthy!

"Love the Lord your God with all your heart and with all your soul and with all your mind.' This is the first and greatest commandment. And the second is like it: 'Love your neighbor as yourself." Matthew 22:37-39
---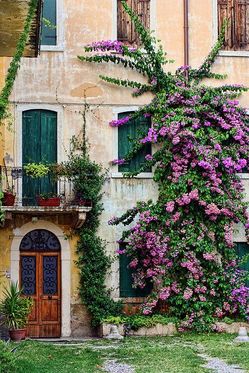 This is the front entrance into the Disney Residence in Florida! The home was built in 1955 and has been the heart of countless wonderful gatherings of family and friends spanning so many years. The rear gardens are so inspiring and two Italian fountains are featured adorned with such soft and tender images. Many outside meals have been enjoyed by Brothers Daniel and Charles Elias Disney along with Charles' son Cristian who reside in this Spanish-style home! Daniel and Cristian really enjoy preparing BBQ's and creating pastries! Cristian's birth parents (Lucian/Luke and Maria) resided here for many years prior to their untimely passings when Cristian was five years of age! This is the home where the guys are able to relax and renew and to draw great strength from their Roman Catholic Faith. While Cristian was still performing with the Ringling Bros. Circus he practiced on his aerial stunts with the aid of his high rigging equipment installed near the back of their home! "Home is where the heart is!"
---
---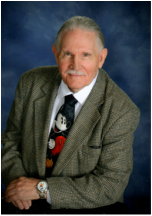 Charles Elias Disney has spent most of his life helping others. In spite of some very distressing experiences from the time he was a youngster and throughout his later years, he has never stopped believing in the goodness of others! The most important people in his life have been individuals who have inspired Charles Elias to befriend people who otherwise were often "forgotten or even left behind!" He emphasizes and accentuates the positive and encourages others to do their very best and to find people who are hurting and then to "do something about helping them; and to sincerely care about them!" Early in life, Charles Elias' mother encouraged him to love God and, in her words: "Find your passion for good, keep God at the center of your life, and then let nothing stop you from pursing this passion!" Very often, he can be seen engaging people and expressing his deep beliefs and offering his encouragement!

Several individuals have been the great influence in his life and none more than his mother who was Meredith A. Disney and his father who was Raymond Arnold Disney. His Father was one of the older brothers of Walt Disney. His paternal grandparents were Elias Charles Disney (for whom Charles Elias is named) and Flora Call Disney. His step-father who was Charles Fisher also had a most profound influence on his life! His late wife who was Mary Elizabeth O'Brien Disney and his late son who was Charles Roy "Charlie" Disney. Also, his brother who is Daniel H. Disney and his adopted son who is Cristian Petrea Disney. Cristian was a longtime aerialist performer with the Ringling Bros. Circus and his parents passed away when he was five years of age! When he was faced with "less than even odds" for survival when he was eleven years of age and Charles Elias developed a serious case of rheumatic fever, it was his mother who tirelessly assisted him and she sought the best medical help available for him, and after many months of hospital and home confinement, Charles Elias was able to "beat the odds" and fully healed and he survived this dreaded disease! The sickness required him to repeat the seventh grade in his early grammar school educational years since he was unable to attend many weeks and months of regular classes. His uncle Walt Disney personally created some drawing strips for him showing how Donald Duck endured his struggles with a similar illness, and these comic strips really inspired him as he was recovering from this dreaded illness.

To clarify, and to summarize. Charles Elias Disney lost his wife Mary Elizabeth and son Charlie in an auto mishap many years earlier. The family home burned to the ground in an arson-related fire in Malibu, California in 1993 when 359 homes were destroyed. And then Charles lost his mother, who was Meredith Disney, in the tragic auto mishap in 1998. And then the home of Daniel H. Disney and Charles Elias Disney in the Midwest was completely destroyed in 2011 in a record massive catastrophic EF-5 multiple-vortex tornado" that completely destroyed many generations of family pictures and countless family keepsakes that were never recovered. Daniel H. Disney suffered a very near fatal heart attack followed by five-bypass open heart surgery in late summer of 2014, from which he is still recovering! So, all families are faced with misfortunes and people must do their best to go forward and find strength coming from their faith, family and friends! And patience and endurance!

​Charles Elias was always interested in the film and entertainment business and when he was eighteen, he and his mother formed a private film "seed financing" entity to assist independent film makers with their initial funding for their films. This enterprise was named LodeStar Pictures and with the help of others, the fledgling film enterprise met with some great success from the beginning! While Charles Elias has been involved with and partnered with others in numerous other business ventures, his efforts were mostly directed toward his involvement with films and financing films throughout most of his working years. He also was a managing partner with Central Cinema Company in the operation of numerous theatres.

Another very relevant person, one who never can be understated in Charles Elias' life was Patricia Ann "Patty" Disney, the wife of first cousin Roy Edward Disney. Religion has always been such an important part of Charles Elias' life and "Patty" Disney inspired and encouraged Daniel H. Disney and Charles Elias Disney to become Roman Catholics, and she served as one of their personal sponsors along with Franciscan Sisters Annie Hilger and Ida Nieberle when they entered the Church many years ago. Meredith and Patty were very close friends and enjoyed each others company for many years and Patricia and Rosalind Russell also sponsored Meredith when she entered the Catholic Church some years later! Meredith and Patty and Rosalind were quite active in their respective parishes right up to the time when each one of them passed away.

And again, another person who has inspired and influenced Charles Elias is his brother Daniel H. Disney. Daniel and Charles have continued the LodeStar Pictures enterprise and have expanded on the original concept first established by Meredith and Charles Elias in Kansas City so many years ago. Together, Daniel and Charles Elias have established numerous funding's for various religious and other charitable entities. The majority of their giving efforts have been done so with desired personal anonymity. Their footprints perhaps lead directly to and are linked to numerous film projects and other enterprises.

Of course, the two people who perhaps have had the greatest influence on Charles Elias' life were his late wife and son who lost their lives in a terrible auto accident. Mary Elizabeth O'Brien Disney was thirty-one years of age and Charles Roy Disney was three and one-half years of age when they passed from this life. A youngster ran into the car in which they were riding and claimed both of their lives. Only Mary and Charlie were in the car at the time of the tragedy. This tragedy changed the course of Charles Elias' life and he determined early on (thanks to his mother,) that he would live out his own life by honoring Mary and Charlie's lives by reaching out to others in all sorts of dire circumstances, including the young fellow who actually caused the accident---talk about Dr. Schuller's "Turning your Scars into Stars!"

Another close and longtime friend who had such an important impact on Charles Elias' life and on Daniel and Meredith's lives as well, was the late Rev. Dr. Robert H. Schuller from Garden Grove, California who was an advocate and author of Christian "Possibility Thinking" and an example of faithful success. He inspired the building of the iconic Crystal Cathedral in Garden Grove, that was the longtime home of the "Hour of Power" inspirational television broadcasts for many years. His most faithful good grandson Bobby Schuller continues with this weekly "Hour of Power!" Dr. Schuller passed away on April 2, 2015.

One of the great joys in Charles Elias' life is to help fund worthy endeavors such as Catholic Charities and the building of the Cathedral of Our Lady of the Angels in Los Angeles. Charles Elias stated: +"Roger Cardinal Michael Mahony, the retired Archbishop of Los Angeles, influenced our families commitment to this beautiful and iconic Cathedral!" Catholic Charities is present throughout the World and it is impossible to ever place a number on how many millions of people are assisted yearly by this great Roman Catholic outreach! His brother Daniel worked closely with Cardinal Mahony to create the many print graphics prior to the Cathedral opening!

Also, he maintains a special interest in the Shriner's Hospitals for Children! These hospitals help children survive some of the most horrific circumstances and without the Shriners Hospitals, so many children would live out their lives having never been cured of their maladies, burns, or injuries or birth defects! The combined Shriner's 22 Hospitals for Children in the United States, Mexico and Canada have been helping children and their families since 1922. Recently, a new state-of-the-art hospital replaced the older former hospital in St. Louis, Missouri. Charles Elias Disney is an active and faithful Christian Roman Catholic and a conservative member of the Republican Party.

Charles Elias believes: "Difficult times do help form one's character" and he believes had he not endured his share of difficulties and hardships, he would never have been able to fulfill what he believes God revealed for his life! He believes: "Everyone is influenced by others and throughout one's life it is important to recognize the goodness that can be found in everyone." He believes that so many people have influenced his life and that it would be impossible to name each and every individual at any one time, but he does hold each and every one in his thoughts and prayers daily! His parents set before him wonderful examples of reaching out to others without any desire for reward, recognition, or any compensation! "And the desire and ability to forgive must always be paramount in everyone's life!"

A very special place in Charles Elias Disney's life is found in the beauty and the serenity of northern Minnesota in an area known as Crosslake! He spent many summers there with his parents and other family and many friends, and he always enjoyed the special and majestic beauty of the countless lakes and forests and the very special people who call this place home! His dad taught him to love fishing and to love all of nature and he first learned to swim in Whitefish Lake when he was only four years of age and jumping off at the end of the dock at the awesome and majestic Boyd Lodge, a stunning lodge that still continues to be enjoyed by many families to this day. In later years, he was fortunate enough to have actually lived in Crosslake and in beautiful and rustic homes actually designed and built by his brother Daniel Disney! He recalls: "These were truly some of the very best years of my life and the memories will be with me forever!"

When his family home burned to the ground in Malibu, California in 1993 and then his home was completely destroyed in the massive midwest tornado in 2011---in both instances---he gratefully emerged a stronger man! Although still missing the many personal belongings, especially family pictures, all lost in the tornado that nearly cost him his life. Daniel Disney also survived both of these catastrophic tragedies. Charles Elias and Daniel marvel at the people who came from near and far to assist following these unimaginable circumstances. Charles Elias' mother was also Daniel's step-mother, who was Meredith A. Disney, and she passed from this life as a result of a tragic auto mishap and her loss impacted so many other lives. This, Charles Elias believes: "Lives are always altered forever when our loved ones pass from this life...be thankful while you have your loved ones and let them know how much you do love them...!"
---
---
Love and dedication and devotion for Wild Animals nearly cost Charles Elias Disney his own life, but, as he boldly states: "We must take some measures NOW to save these magnificent creatures! Many of these animals are being extremely decimated by illegal poaching and even certain hunters with absolutely no regard for any particular species! And I do support the Second Amendment to the U. S. Constitution. What I vehemently oppose is illegal hunting, anywhere!"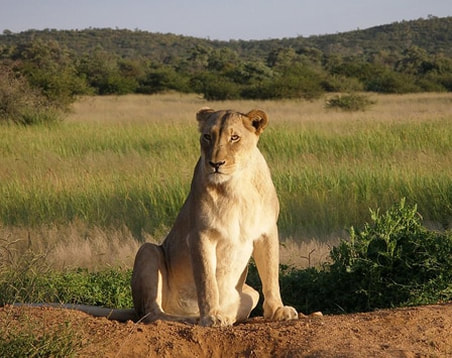 Charles Elias Disney was attacked by this female lioness (Panthera leo) while he was in Africa filming and as an advocate for preserving African wildlife! He sustained serious injuries to his left arm and shoulder including a massive loss of blood. He escaped by taking a chance, and with all of his might, punching this great lioness square in the middle of her nose with his right fist, when a remarkable thing occurred, as she was very briefly stunned when she actually released him. Charles continues to recover from this encounter and has endured numerous procedures to restore muscle and nerve trauma. Charles Elias Disney states: "This attack was 100% my fault because I violated a cardinal rule when you are in the presence of these magnificent creatures--never turn your back when you are aware of their presence and certainly never try to outrun an adult lion or lioness. I did both, and she thought I was easy prey and she did what came naturally, she grabbed my shoulder and brought me to the ground and with every intention of killing me! After I punched her, which obviously startled her, (I was also startled) and I was then able to escape and helped into the nearby large enclosed vehicle where I was safe and where I received the immediate emergency treatment I needed, and as a result, I have survived! This beautiful lioness then took leave and ran back into the bush! And for this, I was then, and am today, most grateful to God! I have always insisted that NO animal was EVER to be harmed or destroyed and in this instance, no effort was made to harm or destroy this magnificent lioness...!"
​
More additions will be shown in the future relating to Meredith A. Disney, Daniel H. Disney and Charles Elias Disney...

Sincerely, Patrick Tighe, Disney editor and biographer
​
---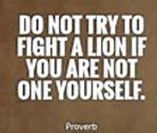 ---
*And finally, and for this point in time, both Charles Elias and Daniel Disney voluntarily emerged from the Federal Witness Protection program in 2012 that was administered across a number of years as the result of a most reliable and viable threat to their lives, when both men, and for their own protection, did voluntarily, and with some personal and obvious reluctance, periodically assumed various other identities and moved to numerous different locations throughout the duration of the FWP program. These years were perhaps (oftentimes') the most difficult because the many moves were predicated by circumstances completely beyond their control! When asked, both Daniel and Charles Elias are unclear and even hesitant to say if they would enter this program today because this time in their lives was immensely disruptive, and very often and understandably, even quite misunderstood by others, who did not understand the viability and obvious necessity of the Federal Witness Protection Program! And life does ultimately move forward for everyone and as Charles Elias Disney said: "With God's mercy, every life grows and is changed, empowered, and hopefully fulfilled! And still remain stable!"
*Patrick Tighe, Disney editor and biographer
---
Firemen fighting the Disney home in the huge Old Topanga Fire that completely destroyed the Disney home (shown) in Malibu, California on November 3, 1993. 359 Homes were destroyed and 18,000 acres were destroyed!